Hey everyone!! So I'm taking part in the Spring Blog Carnival hop that's being hosted by
Candace's Book Blog
,
Pure Imagination
,
Reading Angel
and the
Book Swarm!!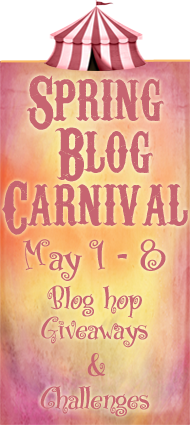 The Carnival will run from 1st May to the the 8th of May, and as well as giveaways there will also be special carnival-esque booths with challenges and other fun things!!
My contribution to the Carnival will be a giveaway!
The winner will receive an E-Book Copy of 'Sleight' by Jenn Sommersby!!
Her mom is dead.
Ghosts follow her around.
Her best friend is an elephant.
And she's about to meet the biggest game changer of all: a boy. With a secret.
How much of an attention grabber is that?? For a full synopsis and a review of this awesome book, see my post
here
Entering is simple, just leave a comment with your email address so I can contact you if you win!
There's also a few extra entries up for grabs, if you fancy them:
+1 entry: follow my blog
+1 entry: tweet/spread the word about this contest (provide a link in your comment; to do so on twitter, click on the time stamp and then c&p that link)
+1 entry: follow Jenn on twitter @JennSommersby (provide your twitter name in your comment)
If I get over 75 entries I'll also be adding another, extra special prize!!
Enjoy the Carnival! =]