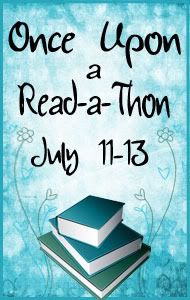 I'm participating in the Once Upon a Read-a-thon!! We're about 12 hours in now, and unfortunately I've done very little reading!! It started at 5am here (cause of the time difference) so naturally I was asleep...I definitely need to catch up!!
Part of the rules is to take part in a mini challenge, and I've chosen the one hosted by Bailey at I
B Book Blogging
which is mythology based!!
Question 1: What is your favourite type of myth?
I think I'm going to be in the majority here, but definitely Greek. I've loved Greek Mythology since I was a kid, so I'm enjoying the recent spurt of mythology based YA! Having said that, I do like Norse Mythology too!
Question 2: What is your favourite book with some type of mythology in it?
Oh it's by far the Percy Jackson Series by Rick Riordan!! I picked the first book up on a whim many years ago because it looked vaguely Harry Potter esque and I've loved the series ever since!! I think he works Greek Mythology into the stories really really well, adapting them so they're more modern and relevant but still recognisable
Thanks Bailey for such cool questions =]