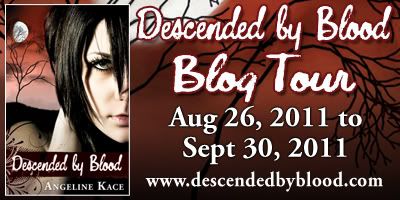 So today I am hosting Angeline Kace, author of Descended by Blood which is a really cool book that has a really unique take on vampires! Angeline thought it would be pretty cool to show you where she does all her author-y things. So here's her post:
My Writing Space
I thought it would be fun to give you all a sneak peak of where the magic happens. This is where I do all of my writing, revising, editing, tweeting, etc.
Yes, my desk is a kitchen table. It's actually the table from our kitchen! I know, I know. That sounds bad, but let me explain. The hubs and I have lived in this house for over four years, and we've sat at the table in the dining room for dinner probably only about seven times. And each of those times have been when we've had company over for dinner. Now, we just eat out, or sit on the couches. More comfortable that way. ;)
I stole the table out of the kitchen when I was getting close to doing the edits for Descended by Blood. My plan was to print off the manuscript and go through each page with a red pen. I needed enough space that I could have the pile I was writing on and going through, a pile of the pages already gone through, and then a place for my notebook for any major notes that I needed to remind myself of or to add in later. I also need my computer so I could get emails and tweet (a necessity, no?). I needed something BIG for all this, and instead of buying something else, I rearranged and took what we already had but weren't using.
Taking the kitchen table as my desk instead of buying a bigger desk worked out great because you see those two monitors in the picture? Well, part of the process of publication (at least for a lot of the authors I know) is to have your book beta read. That's where you send your book out to readers, and they send you feedback on it, and you adjust your project accordingly. Well, I knew this was all going to be via the computer, and I just knew I needed a screen open of the file from the betas and a screen for the file I'm editing. No way was I going to deal with switching back and forth from screens like crazy, so I HAD to buy a second monitor. It saved me LOADS of time. There were even days when I wish I'd had a third screen!
So, that's what my writing area looks like! Well, all except the Kindle is off to the side on days when I'm not using it. Oh, but everything you see here, the skin on the Kindle, bookmarks, and nail polish is part of your prize pack up for grabs today! My sister even tried to steal one of the nail polishes the other day. Silly sister! Those are for my readers! ;)
Thank you so much for hosting me, Cait! You're such a fun blogger, so I'm glad I got to stop here today!
***
Thanks for stopping by Angeline! As well as a really interesting guest post, Angeline also has a
giveaway
for you lovely, lovely people.
The giveaway will run from now until 11:59pm EST tomorrow (21st September)
There will be one winner who will get their hands on an ebook of Descended by Blood, a kindle/nook skin, a signed bookmark and a nailvarnish! Cool prize huh?
It *is*
US ONLY
but because I am an international blogger myself, Angeline has also generously given a second prize of a Descended by Blood ebook for one international winner too!
To enter, simply leave a comment with your email address and whether you're entering the US or International giveaway, easy as that!